Rc Fishing World
Order-Questions
1-734-502-8796
Buy Direct With 2 year warranty!
FedEx Home Delivery - Arrives in 4 Business Days
THE "RC FISHIN' POLE" FITS ON ANY RC BOAT!

You can use any of our ready to fish Remote Control r/c Boats to go R/C Fishing! Or choose from any of the rc boats in hobby stores and online. No tools, glue, or screws at all

!

Our remote control fishing boats come with The "RC FISHING POLE" mounted, and you're fishing fast, and it's removable. Drive your bait around the lake till you find a good place, reach places you never could by plain fishing before! Watch the fish hit your bait. Then watch as your fishing line comes off the boat, then you reel in your fish, or keep driving around the until the big one hits! Use your Radio control to go trolling around the dock or shore, and catch a bunch of Bluegill! Or for Big Fish drive your fishing line out 300 to 400 feet!
With The RC Fishing Pole you can also use any remote control boat for Catching Fish!
"I put a worm on the hook, then
drove the RC Boat out, Then
BAMMO ! FISH ON !"
Catch Bass,Bluegill,Catfish,Crappie,Pike, any kind of fish!
Use ANY RC Boat for YOUR kind of fishing!
USE YOUR OWN RC BOAT FOR FISHING TOO!
THE "RC FISHIN' POLE" ONLY $19.95



Shipping-$4.99 International $16.00
Call or email for Mail in Orders
Look at our Remote Control Fishing Boats!
Go Fishing with Fish Fun Co.'s Remote Control Fishing Boats! Real Fishing and Fun for all ages!

Drive your fishing line and bait, Hook a fish, and reel it in! Catch any size fish!
As Featured on Animal Planets NEW HIT Fishing Shows Top Hooker and
Off The Hook-Extreme Catches!
Watch The Show Now.
The R/C Fishing Boat Combo!
includes The "RC Fishing Pole"!
You can use your own RC Boat,
or use our "Combo"!
"Our Ready to go Fishing!"
Remote Control Fishing Boats
If you don't have a rc boat already
we have one for you.
It's some big fishing fun!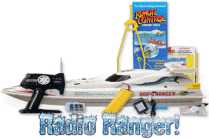 Extreme 34" Radio Ranger,
Remote Control Fishing Combo
includes The "RC Fishing Pole"
$99.95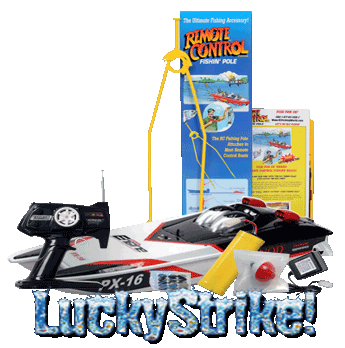 32" The New LuckyStrike,
Remote Control Fishing Boat
includes The "RC Fishing Pole"
$84.95
The RC Fishing Pole" works best on
a RC Boat at least over 18"inches.
Any rc boat from a hobby or toy
store will work great too!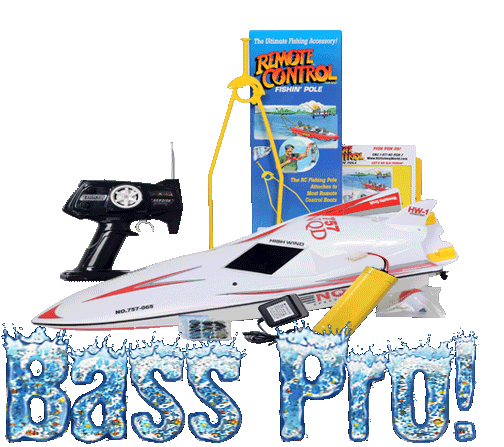 Wow 29.5" Bass Pro,
includes The "RC Fishing Pole"

$74.95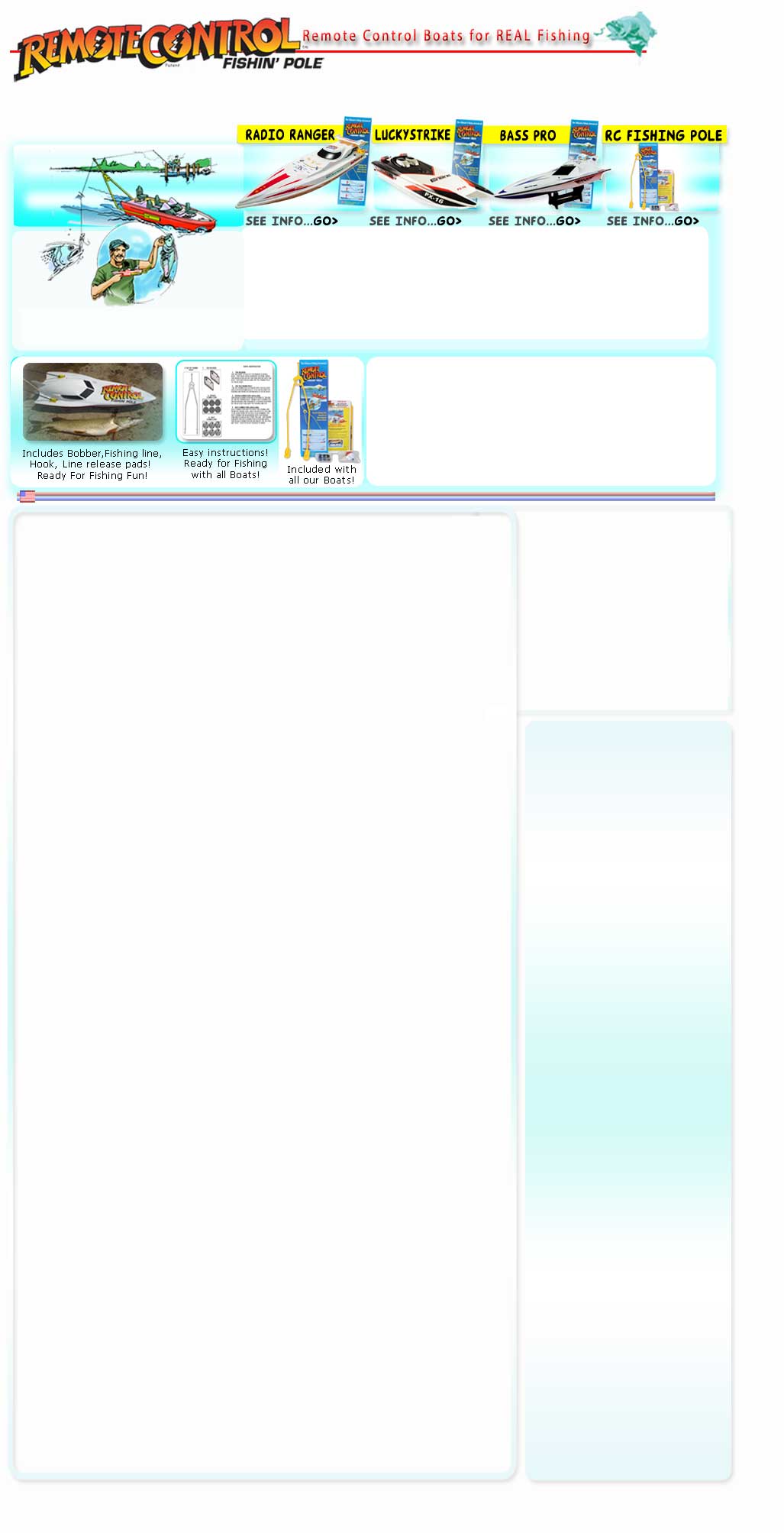 Phone Orders Free Rod Tip Light!

Bait and go! Meet the Radio Ranger! The line disconnects! How to assemble!
The new" exciting" way to catch a fish with a

Fish Fun Co.

remote control boat! Take fishing to the next level by catching a big fish using a remote control fishing boat and "The RC Fishing Pole"!
The must have fishing accessory for every fisherman, and youngster's just learning to fish!
Now you can drive your line where the fish are! Check out Our New Rc Fishing Videos page!
A new Fish Fun RC Fishing Boat is more than a just a toy remote control fishing boat because you can catch any size fish! It's practical for the fisherman, get your line under tree's where you can't cast, and now you're able to get it out 300-400 feet! The kids will have a blast too! Pull in the bluegills with the boat! Enjoy fishing with the thrill of a remote control boat that catch's real fish!! You can drive the line anywhere and you can Catch any size fish! It's simple, easy, and fun, everyone can do it too. You just attach your baited fishing line to the RC Fishin' Pole on the r/c boat. Instead of casting, you drive your line out. The best thing about "The RC Fishing Pole" is when a fish hits, the line will disconnect from the boat, then you reel in the fish with your fishing pole! Another great feature instead of the line disconnect is you can use the powerful boat to pull in the fish! Use a Fish Fun remote control fishing boat to catch little fish at the pond or big Bass, Carp, Catfish, and Pike at the lake. Catch fish from a dock or the shore! Catch fish without a fishing pole!
Fish Fun R/C Boat Combo's come with "The RC Fishing Pole" mounted, powerful twin hobby grade 380 motors, 7.2 volt battery, charger, and boat stand included, ready to go fishing! Also includes fishing line, bobber, and hook!
Or you can also turn your own remote control boat into a RC Fishing Boat with "The RC Fishin' Pole"! For Real Fishing! For having fun with two things, Remote control boats and Fishing!

Fish Fun Co. Remote Control Fishing Boats for real fishing and fun too!




Favorite-Share this Page or Email it to a Friend!






Every Replacement Rc Boat Part You Might Need! Transmitter Antenna-Remote Controller-Motors-Propellers-Receivers-Buy Rc Boat Parts.


See The New 5000 Mah Battery Upgrade! Get 40-50 minutes run time. See the Fast Smart Chargers.

Read Our Remote Control Fishing Boats Blog! GO> or Great Links to RC and Fishing forums!

Contact Toll Free 1-877-RC-FISH-2 or 1-734-502-8796






Contact Us Toll Free 1-877-RC-FISH-2 or USA 1-734-502-8796 Email Us
Sporting Goods > Outdoor Recreation > Fishing >Fishing Tackle>Remote Control Fishing Boats
See Our Privacy Policy Statement
© Copyright 2013 RcFishingWorld.com. All Rights Reserved