Lets Go Rc Fishing!
Catch Any Size Fish!
As Seen on Animal Planet!
300-400 Feet Range!












You Don't Need a Fishing Boat!
We picked up a new Radio Ranger and give a try for the first time. Bammo, fish on, at least we think its a fish, oh well....

Lights, Camera, Rc Fishing Fun!
The Rc Fishing Pole attaches on any rc boat. It turns any rc boat into a Rc Fishing Boat! Pull in fish with the boat or use the Line Release feature for BIG FISH!
What Happens When You Get a Radio Ranger for Your Birthday?
YOU GET A RC BOAT THAT REALLY CATCHES FISH!!

A NEW WAY TO GO FISHING!
A

re you ready to go Rc Fishing? At Rc Fishing World we have you covered, Summer, Fishing and Fun!
















Kirby Has a New Radio Ranger!
And he puts the boat in the water and is instantly getting nibbles! Watch The Rc Fishing Pole on the end of the boat, and he's caught a BRIM!
Drive out your Fishing Line!
If you're a fisherman and tired of the same old action stop casting out and do a little more catching with a Fish Fun Co Rc Fishing Boat!
The Whole Lake to Myself!
Rc Fishing with the Radio Ranger catching Trout from a Kayak. What could be better than a Radio Ranger Rc Fishing Boat? Two Radio Ranger Rc Fishing Boats!
Have a Passion for Fishing?
So do we! Now with the power of a Rc Boat and The Rc Fishing Pole you can combine the best of both worlds!
Let's Go Rc Fishing!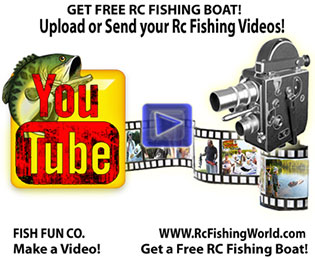 AS SEEN ON TV! Animal Planet, "Off The Hook"!
We're on top of the world! Al from Fish Fun Co. meets the host of Animal Planets new show "Off The Hook" Eric Young, you may recognize him as "Showtime" the wrestler from WWF. Eric never heard of a Rc Fishing Boat until Al explained it to him, it was all fun fishing after that! Watch this video if you want to see the fishing line release in action. We're using a Traxxas Blast and an AquaCraft Tug Boat to take our line out 100 feet or so, then Bammo, Fish On! Make sure and watch as the Fishing Fun never stops!

Send us your Rc Fishing Video or Upload your video on Youtube and get a new Rc Fishing Boat of your choice FREE!
If you have a Fish Fun Co product and you make a Rc Fishing Adventure Video like the ones here you get a new Rc Fishing Boat Free! Make it a great video, it doesn't have to be as great as Animal Planet. Show the boat going out catching the fish, let's see the the fish and mention our website, RcFishingWorld.com!

Nice Bass and a Really Big Catfish 4Lbs.
Did you know Fishing with a rc boat isn't actually a new idea? Fishermen have been trying for many years now to perfect a way to get their line out record distances to go after the big fish! A rc boat can go 300-400 feet and take your line percisley where you want it to go. Being able to pull in a fish with a rc boat puts a new twist on fishing too, (for small fish)! Use the line release and drop your baited hook off and lets catch some real big fish. When you hook a LUNKER let it pull the boat around until its tired out then drive the fish in.














Dubai RC Sports Fishing with the "Radio Ranger"
"LIVE ACTION" 12 Miles offshore in The Indian Ocean.
Getting the line out and hooking a Rainbow Runner! A tastey Fish!

Rc Fishing in Sunny Florida!
A Small Jack, a Ladyfish, and Snook.A successful day of fishing with the Radio Ranger Rc Fishing Boat!

The Kids are Having Fun!
Can you say Wholesome fishing fun? Go on, Get out, Go Rc Fishing Today.

Nice one Buddy!
Put a little bait on the hook, drive the boat out and gues what, drive the fish in and check it out!

















Great Instructional Video
A great overview of the Radio Ranger and The Rc Fishing Pole. Pro Angler Mark Goins shows us some giant hybrid Bluegills, and how to use the line release.
Rc Cat-Fishin Anyone?
Texas Fishing Fun, a nice day and a nice little rc catfishing fun!
One Fish, Two Fish, Red Fish...
The LuckyStrike is on a roll, the Bluegill don't have a chance to escape The Rc Fishing Pole and a worm!
How to Catch Big Fish with The Rc Fishing Pole's Line Release.














The Maiden Voyage of an Old Rc Boat with The Rc Fishing Pole.
The Rc Fishing Pole attaches on Any Rc Boat.
Here's a review of a 30" rc boat with The Rc Fishing Pole. Use any Rc Boat with The Rc Fishing Pole.
My Exciting Day Fishing With Mom
Me, Mom, and my Sisters. I'm a hero with my Radio Ranger Rc Fishing Boat!
20 Rainbow Trout Rc Fishing!
Now here's a kid that gets right down to business. He's caught a bunch of 12" Rainbow Trout today with The Rc Fishing Pole!