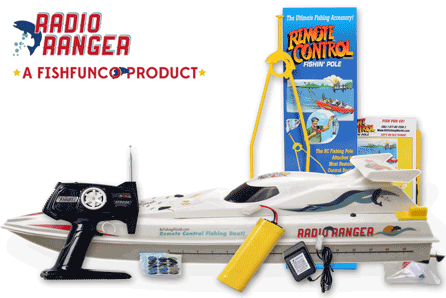 The Big One, 34" inch-Our Biggest!
"Radio Ranger" Remote Control fishing boat.

It's almost 3 feet long, that is a big RC Boat for catching fish! The biggest rc fishin' boat we have!

Catch any size fish with this huge one!

The Radio Ranger is great around the dock fishing for little fish, the kids love it!

Pull in the fish with the "Radio Ranger" or use the line release. The Radio Ranger can also drive out 300-400 feet, so for the real fisherman it's not only a blast, it's very useful for driving the fishing line out to record distances, and getting the line where you can't cast!
The Radio Ranger Rc Fishing Boat includes:
+ The 34" Radio Ranger Rc Fishing Boat.
+ The Rc Fishing Pole , Fishing Line, Bobber, and Hook, Line Release Pads.
+ A Boat Stand for the Radio Ranger.
+ Transmitter and Batteries for the Radio Ranger.
+ 7.2 Volt 1800mah Boat Battery and Wall Charger.
+ 1 Extra Set of Propellers.
The Radio Ranger is Ready to Run right out of the box, just charge the battery and Go Fishing!

There's never been more fun fishing than being able to use a remote control boat and going fishing at the same time.

The Radio Ranger is not like the novelty "toy" boats that catch only little fish, The Radio Ranger with the RC Fishing Pole is designed so you can catch big fish too! Put the 34" Radio Ranger in the water, and go fishing the new way, rc fishing!

Fish Fun Co. remote control boats are for real fishing. Catch small Pan fish, Bass, and big fish like Pike! The Radio Ranger is the biggest rc fishin' boat around!

The Radio Ranger comes with complete, illustrated, easy to understand fishing instructions, and everything to get started rc fishing.
For small fish attach your line to "The RC Fishing Pole", (included) , and the boat pulls em. For big fish attach the line from your fishing rod. Instead of casting, you drive your line out, when a fish hits, the line disconnects, and you reel em in!

Hours of exciting remote control fishing fun at the lake, or on the pond!
Features
Factory pre-assembled, ready-to-run

Detailed Exterior, Glossy Paint

High Performance, (air cooled), 390 motors

Prof. Designed Dual Propellers

Remote Distance: Up to 350 Feet

Suitable for children of age 10 +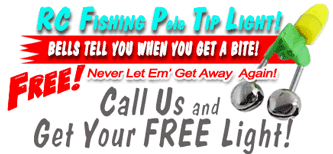 Share Us Http://RcFishingWorld.com with your friends. Share by Email, Facebook, Twitter, Favorite Forum, or Blog and tell your friends about us. Then Get $5.00 Off The Purchase Price of any Rc Fishng Boat! Or $2.00 Off any Order! Plus receive a Free Gift! *Offer applies to phone orders, were open Mon-Fri 8:30 am-5:00 pm Eastern Time