Another Great Choice For Rc Fishing is The New "Fishing Streak ii " Rc Fishing Boat! .
At 30" inches this craft will pull in Big Fish and get your line out hundreds of feet with no problem!. Perfect for the Real Angler, and around the dock fishing for little fish too. The kids can have endless days of wholesome fishing fun!
NOW VARIABLE SPEED! Check it Out!
GO>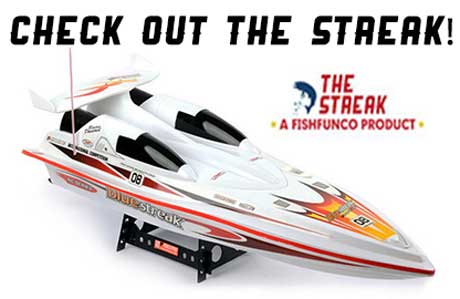 Pull in fish up to 4lbs-5lbs with the "Radio Ranger Rc Fishing Boat" or use the line release for any size fish.
The Radio Ranger has a range of about 200-300 feet, so for the real fisherman it's not only a blast, it's very functional for driving the fishing line out to record distances, and getting the line where you can't cast!
USE ONLY THE INCLUDED "Blue" 1500 mAh BATTERY-AND OUR EXTRA "Blue" 1500 mAh LITHIUM BATTERY. Older Radio Rangers Use our "Yellow"1800mah AND "Red" 5000mah NICD or NIMH
Features:
Ready For Rc Fishing Fun.
Factory pre-assembled, ready-to-run
Detailed Exterior, Glossy White with Cool Fishing Decals
Two (2) High Performance, (air cooled), 390 motors
Prof. Designed Dual Propellers
Remote Distance: Up to about 300 Feet
Suitable for children of age 10 or under with Adult Supervision
The Radio Ranger Rc Fishing Boat includes:
2.4 GHz 34" Radio Ranger Rc Fishing Boat.
The Rc Fishing Pole Fishing Line, Bobber, and Hook, Line Release Pads. Radio Transmitter requires 3-AA Batteries.
7.4 Volt 1500mah Boat Battery Pack and USB Adapter Charger.
1 Extra Set of Propellers.
A Boat Stand for the Radio Ranger.
Set of decals Rc Fishing Pole and Boat Instructions with Rc Fishing Tips.
Radio Ranger Rc Fishing Boat Specifications
Length: ~34" in.
Width: ~8 in.
Height: ~6 in
About 20 Mph Boat color: White
The Radio Ranger is Ready to Run right out of the box, just charge the battery and Go Fishing!
There's never been more fun fishing than being able to use a remote control boat and going fishing at the same time.
The Radio Ranger is not like the novelty "toy" boats that catch only little fish, The Radio Ranger with the RC Fishing Pole is designed so you can catch big fish too! Put the 34" Radio Ranger in the water, and go fishing the new way, rc fishing! Fish Fun Co. remote control boats are for real fishing. Catch small Pan fish, Bass, and big fish like Pike! The Radio Ranger is the biggest rc fishin' boat around! The Radio Ranger comes with complete, illustrated, easy to understand fishing instructions, and everything to get started rc fishing. For small fish attach your line to "The RC Fishing Pole", (included) , and the boat pulls em. For big fish attach the line from your fishing rod. Instead of casting, you drive your line out, when a fish hits, the line disconnects, and you reel em in! Hours of exciting remote control fishing fun at the lake, or on the pond!
The Upgraded Radio Ranger lll, Almost 3 Feet Long!
Includes Everything!
Charge the Boat Battery and Go Fishing.


Hours of exciting remote control fishing fun at the lake, or on the pond!